"The Fremont Centre Theatre stage has been graced during its past years by such varied & exceptional talent that we are constantly in awe of those whose limelight we have been privileged to share" –Backstage West
On Stage now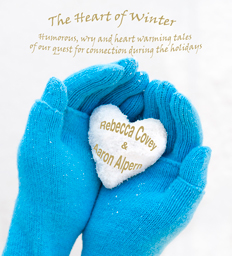 Sunday, December 21 @ 3pm
The Heart of Winter by Rebecca Covey & Aaron Alpern
Humorous, wry and heart warming tales of our quest for connection
during the holidays, featuring lively stories by Dorothy Parker, David Sedaris,
O. Henry, Issac Bashevis Singer and more!
Tickets are a suggested donation of $10.
Please call the Fremont Centre Theatre at 626-441-5977 for more information.
Coming Soon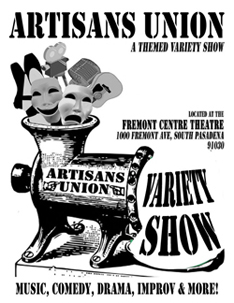 Sunday, January 25 @ 7:30pm
Artisans Union: A Themed Variety Show
A Variety Show featuring dance, improv, comedy & more. Tickets are $15.
We have all gotten that ambiguous invite to a friend's show and arrive having no idea what we're walking into. For Artisans Union, that's a good thing. AU, is different than your typical theater experience. The group, a team of established writers, actors, comedians, dancers, musicians, poets, improvisors and more revive the spirit of a true variety show. Each show is packed with five to six unique performances and featured guests.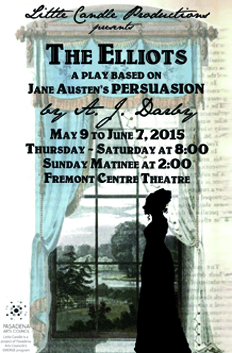 May 9 - June 7, 2015 - WORLD PREMIERE!
The Elliots
A play based on Jane Austen's "Persuasion"
by A.J. Darby, presented by Little Candle Productions.

Performances on Thurs, Fri, Sat at 8pm, Sunday 2pm.
Regular tickets $25, student/senior $20.
$15 Preview performance on May 8th @ 8pm.
Opening Night Gala on May 9th @ 8pm. Tickets $25.
Special Mother's Day Performance on May 10th @ 2pm. Tickets $34.
Ticket price includes Afternoon Tea with champagne in the garden immediately following the show.
At the age of nineteen, Anne Elliott had to choose between her family and the man she loved. With great difficulty, she chose her family. Now, after eight long years of separation and a fortune-changing war, she crosses paths again with the man she can't forget. Does Anne dare to hope for a second chance at love? The action of The Elliots merges Jane Austen's last and most Romantic novel, "Persuasion" with the lonelier reality of the author's life when writing the book. It is a play about the bittersweet beauty of dreams that may never be fulfilled.
In the News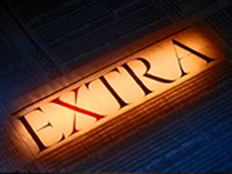 "Holding On~Letting Go" Kickstarter Campaign Successfully Funded!
Our Kickstarter campaign to take our acclaimed show "Holding On~Letting Go" to the prestigious 2013 National Black Theatre Festival was a success! We thank all of our wonderful donors who made it possible to present this special show to a larger audience. For a list of all those who made our trip possible visit our Kickstarter Donor Angels page.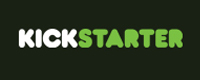 Click the Kickstarter button for more information about our campaign, including a video preview of the show!
Recent Interviews